Terra Lingua USA
3 Helen Road,
Terryville, CT 06786
E -mail: This email address is being protected from spambots. You need JavaScript enabled to view it.
1.800.860.5942
Let's unite the world together.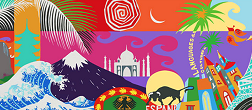 Global awareness grows best when it's personal and local.
Sharing your life with an exchange student brings awareness and a sense of adventure to your family. In return, you are giving your student a view of America that will make a profound difference in who they are and how they relate to Americans.

Welcome a stranger today, say good-bye to a friend tomorrow. We invite you to EXPERIENCE, LEARN, and SHARE!
Ready to host
?
Apply Here